Thematic map
Detailed definition
A thematic map shows the spatial distribution of one or more specific data themes for selected geographic areas. The map may be qualitative in nature (e.g., predominant farm types) or quantitative (e.g., percentage population change).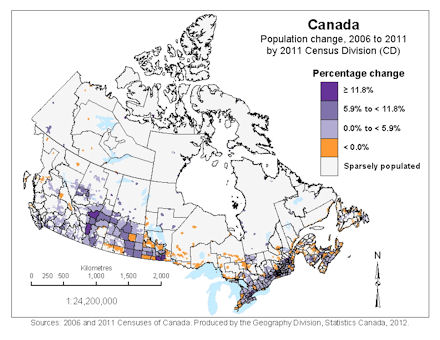 Censuses
2011, 2006, 2001, 1996, 1991, 1986, 1981, 1976, 1971, 1966, 1961
Remarks
A thematic map is also called a special-purpose, single-topic, or statistical map. A thematic map focuses on the spatial variability of a specific distribution or theme (such as population density or average annual income), whereas a reference map focuses on the location and names of features. Thematic maps normally include some locational or reference information, such as place names or major water bodies, to help map readers familiarize themselves with the geographic area covered on the map.
All thematic maps are composed of two important elements: a base map and statistical data. Normally, the two are available as digital files, such as a cartographic boundary file and census data. Desk-top geographic information systems or computer-mapping packages are typically used to generate thematic maps.
Two common thematic maps produced at Statistics Canada are dot maps and choropleth1 maps. The ecumene concept is generally used for dot and choropleth maps, to ensure that the spatial representation of census data is limited to inhabited land. To ensure confidentiality, all census data are subject to random rounding and/or data suppression.
Thematic maps can be used for exploratory spatial data analysis, confirming hypotheses, synthesizing spatial data by revealing patterns and relationships, and data presentation.
Refer to related definitions of cartographic boundary files (CBFs); ecumene and reference map.
Changes prior to the current census
Prior to 1976, thematic maps were generated using manual cartographic methods.
---
Note
The term 'choropleth' is derived from the Greek

choros

, for place, and

plethos

, for magnitude. The choropleth method symbolizes statistical data as they occur within the boundaries of predefined geographic units (such as census divisions or census tracts). Usually, the data are grouped into a limited number of classes, with each class representing a range of data values. A logical sequence of colours or grey tones is then applied to each class. It is important to note that choropleth maps should use standardized data values (e.g., ratios or percentages) rather than absolute values.
Report a problem on this page

Is something not working? Is there information outdated? Can't find what you're looking for?

Please contact us and let us know how we can help you.
Date modified: