Vitamin C levels of Canadians, 2012 to 2013

View the most recent version.
Archived Content
Information identified as archived is provided for reference, research or recordkeeping purposes. It is not subject to the Government of Canada Web Standards and has not been altered or updated since it was archived. Please "contact us" to request a format other than those available.
Vitamin C (L-ascorbic acid) is a water-soluble nutrient that is essential in the growth and maintenance of the human body. For example, vitamin C helps with the absorption of other nutrients such as ironNote 1,Note 2 and is important in the structural components of the body's cells.Note 1,Note 2,Note 3 Vitamin C cannot be manufactured in the human body. In order to maintain sufficient levels for normal body functioning, vitamin C must be obtained through diet, or through the use of supplements.
In 2012 to 2013, the average concentration of vitamin C in blood was 55 μmol/L for Canadians aged 6 to 79 (Chart 1). Overall, males had lower vitamin C concentrations (50 μmol/L) compared to females (61 μmol/L). This was true for all age groups, except for children aged 6 to 11, where there was no significant difference between males and females. Six to 11 year olds had the highest levels of vitamin C (73 μmol/L).
Smoking status, body mass index and vitamin C
Studies have shown that smokers have lower concentrations of vitamin C in blood, as smoking likely causes the body to use certain nutrients such as vitamin C at a faster rate.Note 1,Note 2 Based on self-reported smoking status for individuals aged 12 to 79, smokers had lower vitamin C levels compared to non-smokers (46 μmol/L vs. 56 μmol/L) (Chart 2).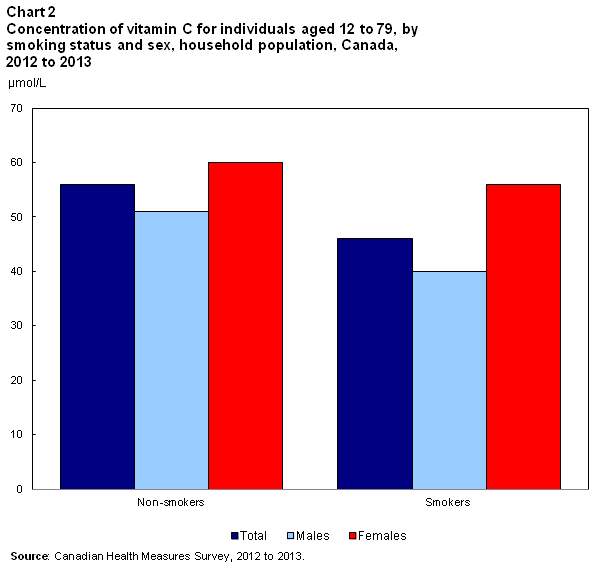 Individuals who were normal weight or underweight had the highest concentration of vitamin C (61 μmol/L; Chart 3). Individuals who were overweight had the next highest concentration (54 μmol/L). Individuals who were obese had the lowest concentration (46 μmol/L). The same trends were found with females. For males, the only difference was with individuals who were obese; they had a lower concentration of vitamin C than all other males.
Start of text box
About vitamin C
Vitamin C (L-ascorbic acid) is an essential vitamin which can come from a variety of food sources. The table below outlines some sources of vitamin C.Note 4
Table 1
Table summary
This table displays the results of Table 1. The information is grouped by Food (appearing as row headers), Vitamin C content (per 100g) (appearing as column headers).
Food
Vitamin C content (per 100g)
Dark green leafy vegetables
100 mg to 150 mg
Bright coloured peppers
80 mg to 128 mg
Oranges
50 mg
Vitamin C is also added as a preservative to some foods.Note 2
Vitamin C concentration was measured as part of the Canadian Health Measures Survey in plasma, which is a component of blood (in micromoles per litre - μmol/L). There are currently no agreed upon guidelines to establish sufficiency of vitamin C levels to use with the CHMS data.
End of text box
Notes
References
de Onis, M., Onyango, A.W., Borghi, E., Siyam, A., Nishida, C., and J. Siekmann. 2007. "Development of a WHO growth reference for school-aged children and adolescents." Bulletin of the World Health Organization. Vol. 85, no 9, p. 660 to 667.
Health Canada. Canadian Nutrient File Available at: http://webprod3.hc-sc.gc.ca/cnf-fce/index-eng.jsp. (Accessed October 1, 2014).
Institute of Medicine. 2000. Dietary Reference Intake for Vitamin C, Vitamin E, Selenium and Carotenoids. Washington DC: The National Academies Press.
Johnston, C.S., Beezhold, B.L., Mostow, B., and P.D. Swan. 2007. "Plasma Vitamin C Is Inversely Related to Body Mass Index and Waist Circumference but Not to Plasma Adiponectin in Nonsmoking Adults." The Journal of Nutrition. Vol. 137, p. 1757 to 1762.
Lordish, H., Berk, A., Zipursky S.L., et al. 2000. Molecular Cell Biology 4th edition, New York, W.H. Freeman.
Schleicher, R.L., Carroll, M.D., Ford, E.S., and D.A. Lacher. 2009 "Serum vitamin C and the prevalence of vitamin C deficiency in the United States: 2003-2004 National Health and Nutrition Examination Survey (NHANES)." The American Journal of Clinical Nutrition. Vol. 90, p. 1252 to 1263.
Data
Additional Canadian Health Measures Survey data on this topic are available from CANSIM table 117-0018.
For more information on the Canadian Health Measures Survey, please contact Statistics Canada's Statistical Information Service (toll-free 1-800-263-1136; 514-283-8300; infostats@statcan.gc.ca).
Aussi disponible en français.