Educational services and the disabled child
Sharanjit Uppal, Dafna Kohen, and Saeeda Khan
Health Analysis and Measurement Group
Statistics Canada

Although a small proportion, children with disabilities are numerous, especially boys
The majority of children with disabilities attend schools without special education classes
Learning disabilities were the most frequent condition requiring special education services
Insufficient level of services was the most common difficulty in receiving educational services
Note takers and tutors most often required for assistance
Boys and girls differ in educational service use and unmet needs
Discussion

The implementation of these rights has led to changes in the way children with disabilities are educated. Since the 1980s, educational reforms have changed the way in which these children are integrated into the school system. Canadian provinces now have education laws that ensure free and appropriate education for all students, but the definition of 'appropriate education' varies by province and often lacks detail regarding the integration of special education in the regular school system.

While progress has been made in policies related to children and disability, the focus is often on adults whose needs differ from those of children. Reliable, comprehensive data about children with disabilities and their families are needed to highlight the extent of their needs in order to better understand and support appropriate decisions and actions.

Specifically, little is known about the educational services these children are receiving. What is the prevalence of children with disabilities? How many attend regular classes and how many attend special education classes? For what kind of conditions do they need special services? What percentages are receiving the educational services they need? What are the perceived barriers to obtaining these services, and what are the most common aids and devices used?1

According to the 2001 Participation and Activity Limitation Survey (PALS), 155,000 Canadians aged 5 to 14, or about 4% of all children in that age group, have a disability of some sort (Statistics Canada 2003). PALS is a post-censal national survey that identifies the number of Canadian children who report difficulties in daily living or limitations in the kind or number of activities they can do. Parents were asked to indicate whether their children were limited in a range of intellectual, behavioural and physical conditions that affect children at home, school and play. They were also asked about needs for special education services and whether these needs were met. The estimate from PALS, a household survey, refers only to children living in households and excludes those residing in institutions.

An individual is considered to have a disability if he or she has a chronic condition, a physical disability, or a cognitive or emotional disability. Having a chronic condition means that a person is limited in the amount or kind of activity he or she can do because of the presence of a condition that is expected to last at least six months and that has been diagnosed by a health professional. A physical disability may involve difficulty in hearing, seeing, speaking or being understood, walking or dexterity; chronic conditions classified as physical disabilities include asthma, heart condition, cancer, epilepsy, spina bifida and muscular dystrophy. Cognitive or emotional disabilities include learning disabilities, such as attention problems and dyslexia; cognitive limitations resulting from a disorder such as Down's syndrome or autism; and emotional, psychological or behavioural conditions.

By broad type of disability, 3.1% of all children aged 5 to 14 have a physical disability and 2.8% have a cognitive or emotional disability. While these proportions may not seem high, they translate into large absolute numbers of young Canadians with disabilities: 124,000 with physical disabilities and 112,000 with cognitive or emotional disabilities. These groups are not mutually exclusive and a large number, 87,000, have both types. Moreover, the prevalence of both physical and cognitive disability among 5- to 14-year-olds is considerably higher among boys than among girls (Chart 1).
Chart 1
Although a small proportion, the absolute number of children with disabilities is quite large, and prevalence is higher for males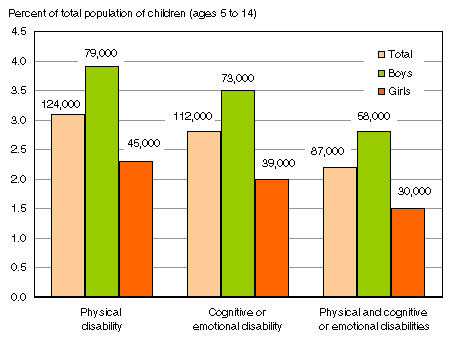 Notes:
Respondents could select more than one response category. Of the children who were surveyed by PALS in 2001 and who had some form of activity limitation, the majority (85,200 or 55%) attended regular classes in a regular school setting (Chart 2). More than one-quarter (39,600 or 25%) attended a combination of regular and special education classes, while a small proportion (11,600 or 7%) attended special education classes only within a mainstream school. In addition, 6% did not attend a regular school, 3% were not in school, and 1% were tutored at home through the school system. (For 3% of children, information was not obtained because the parent either refused to answer or didn't know.)
Chart 2
The majority of children with disabilities do not attend special education classes

Of the population of children with disabilities, 38% (58,500) reported receiving special education services. Many children who receive these services require them for more than one type of limitation. Learning disabilities were the most frequently reported condition among those requiring services: four out of five children requiring special education services had learning disabilities (Chart 3). Half of those requiring services reported needing them for speech or language difficulties, almost half for developmental disabilities or disorders, and about two out of five students for emotional, psychological or behavioural conditions.

In contrast, physical difficulties were the least prevalent conditions for which special education services were required: about 1 in 10 of those requiring special education services required these services for problems of hearing, walking or moving around, or vision.
Chart 3
Most frequent condition requiring special education services was learning disabilities

Notes:
Totals add to more than 100% because more than one category could be selected. Almost one-third (31%) of parents reporting that their child needed special education services said they had experienced difficulty accessing these services. When offered a list of possible reasons for this difficulty and asked to select all that applied, most parents (75%) chose insufficient level of staffing or services. Almost half (47%) of those reporting difficulties said that the difficulty was related to obtaining an assessment. As well, 44% reported communication problems with the school, and 39% reported that special education services were not available locally (Chart 4).
Chart 4
Parents reported a range of difficulties in receiving special education services



A variety of professionals assessed eligibility for educational services: a psychologist or psychiatrist had provided an assessment for 61% of the children, a special education consultant for 58%, a speech or language therapist for 43%, and a social worker for 21%.

Many parents (64%) reported that their children used assistive aids and devices. Among these respondents, a large proportion (57%) reported assistance provided by tutors and teacher's aides. Note takers and readers were reported by 16%, attendant care services by 7%, and material aids such as recording equipment and talking books by 5% each. More than one type of aid or device could be reported (Chart 5).
Chart 5
Tutors and teacher's aides were the most commonly needed assistive aid or device



However, 20% of parents whose children required assistive aids and devices reported that these were not available to their children. Of these parents, 42% identified the need for tutors or teacher's aides. The need for other aids or devices, such as computers with Braille or speech access, recording equipment, and note takers or readers, was rarely reported.

As with special education services, the most common reason cited for a lack of aids and devices was school funding or cutbacks (70%). A smaller percentage (23%) of parents indicated that the school did not recognize the child's need for these aids or devices. While prevalence rates of both physical and cognitive disabilities were higher among boys than among girls, gender differences were also noted for educational service use. As would be expected, learning disabilities were the primary condition for which special education services were required for both boys and girls (81% for each). However, special education services for speech or language difficulties were more frequently associated with boys than with girls (54% versus 41%).

A higher proportion of parents of boys than of girls (33% versus 28%) reported difficulty in trying to get special education services. Regarding the type of difficulty, among parents reporting such difficulty, parents of both boys and girls cited an insufficient level of staffing for special education services (76% and 72%, respectively); some also said it was due to local unavailability of special education services (42% and 33%, respectively). Parents of both boys and girls cited difficulty in having their child tested for special education services (46% and 49%, respectively). Among all parents of children with disabilities, however, parents of girls, were more likely than parents of boys to report the unavailability of needed assistive aids, devices or services (21% versus 18%).

Boys were more likely than girls to have used assistive aids, devices or services at school (63% versus 58%), with a higher percentage of boys than girls (60% versus 53%) using tutors or teacher's aides. Other than the use of tutors or aides, the use of various types of assistive aids, devices or services was fairly similar for boys and girls. Many children with disabilities or activity limitations are experiencing 'mainstream' education by attending regular schools and, in many cases, regular classes within these schools. In both Canada and the United States, there has been emphasis on the integration of children with disabilities into community settings and the provision of access to non-institutionalized, mainstream educational experiences. Research supports the benefits of a mainstream education for certain groups of disabled children, such as those with physical challenges or mild to moderate conditions, but not for children with severe challenges.

The PALS data, from a large national survey of Canadian parents of children with activity limitations, indicate that a large proportion of children with disabilities are attending regular classes in regular schools. Learning, communicative, developmental and emotional limitations were the most prevalent conditions requiring special education services; physical limitations were the least. Tutors and teacher's aides were the most commonly used assistive supports.

Parents of children with disabilities reported a number of barriers to receiving special services for their children including difficulties in receiving assessments, communication problems with the schools, and lack of services in their area.

The information presented here was based on parental reports and perceptions. There is, however, a lack of data on special education needs and barriers from additional sources. This is because data sources are not collected consistently, and disability and educational jurisdiction often falls within multiple areas, such as education and health. A forthcoming report will, however, include provincial comparisons based on data from PALS.

These results cannot provide evidence as to whether or not being in a regular school environment benefits children with activity limitations more than being in other types of environments does. Some evidence from provincial comparisons may suggest that participating in special education is related to bigger differences in literacy attainment between disabled and non-disabled children than is participation in regular schools. Of course, the severity of the child's condition would play an important role in understanding such relationships. Moreover, we cannot determine whether children's placement in regular schools is due to an increased effort to integrate children into the community or to the lack of availability of special education services.

However, integration of children with varying levels of ability within a regular school setting certainly changes the type of resources required in these schools. Human resources required to assist children being integrated into regular classrooms are the main difficulty reported by parents of children with disabilities.
Acknowledgements
We gratefully acknowledge the financial support of the Canadian Council on Learning for the report entitled Access and Barriers to Educational Services for Canadian Children with Disabilities, prepared by Dafna Kohen, Sharanjit Uppal, Saeeda Khan and Laura Visentin, March 2006. We would also like to thank Laura Visentin, Anne Guevremont and Kathy White for their assistance in manuscript preparation.
Kohen, D., Uppal, S., Khan, S. & Visentin, V. (2006). Access and Barriers to Educational Services for Canadian Children with Disabilities. Report prepared for the Canadian Council on Learning.

Statistics Canada (2003). Children with disabilities and their families. Ottawa, ON: Author (Catalogue no. 89-585).
Notes
This article, the first of a series on education and children with disabilities, looks at overall patterns with respect to prevalence of disabilities, nature of schooling, and requirements and usage of special services. A subsequent article will focus on aspects of interprovincial differences in disability rates as well as access and barriers to special education classes and services.