Balance of international payments
Fourth quarter 2005
Highlights
Canada's current account surplus with the rest of the world increased $5.5 billion in the fourth quarter reaching a new high of $13.3 billion on a seasonally adjusted basis. This record resulted from one of the highest surpluses in goods and a lower investment income deficit. For the year 2005, the current account surplus reached $30.2 billion, surpassing its previous record of $29.3 billion in 2000.
Record current account surplus

In the capital and financial account (not seasonally adjusted), growth in Canada's international assets, which came from both portfolio and direct investments, outpaced increases in Canadian international liabilities. Canadian liabilities to the rest of the world went up primarily due to acquisitions of Canadian companies by foreign direct investors.
Current account
Goods surplus again up strongly
The trade surplus in goods was $21.9 billion in the fourth quarter, up $4.0 billion from the third quarter. Over the past two quarters, the goods surplus has increased $7.9 billion to reach a level second only to that of the first quarter of 2001.
Exports went up $6.1 billion in the fourth quarter to $121.1 billion, a second consecutive record. Higher energy prices, notably for natural gas, accounted for almost all of the increase in the value of energy product exports. As was the case last quarter, exports of automotive products grew by more than $1 billion.
Energy products lead surge in exports

Imports increased by $2.1 billion to $99.2 billion. Most of the increase came from machinery and equipment, industrial goods and energy products. Imports of automotive products declined somewhat as higher imports of parts were more than offset by lower imports of automobiles.
For the year, the goods surplus remained more or less stable at $66.7 billion as both exports and imports rose by around $24 billion. Led by energy products, most of the major categories of exports increased although forestry products and automotive products declined following good performances in 2004.
Goods drive record surplus

Lower profits on direct investment in Canada
In the fourth quarter, the deficit on investment income decreased $1.7 billion to $5.2 billion, a value similar to the one recorded during the first quarter of 2005. These two quarters have recorded the lowest deficits since the end of 1992. Lower profits earned by foreign direct investors in Canada combined with higher profits on Canadian direct investments abroad contributed to this result.
While profits earned on direct investment in Canada declined $1.1 billion from the record third quarter level of $8.5 billion, these profits were still the second highest ever. At the same time, profits earned by Canadian direct investors increased to $5.8 billion, a record and the seventh consecutive quarter above $5 billion.
The strong Canadian dollar continued to contribute to lower payments of interest on Canadian bonds issued in foreign currency. Receipts of interest on foreign portfolio bonds reached $1.1 billion in the fourth quarter, up almost $0.5 billion from one year ago. This increase in revenues reflects the significant increase in Canadian ownership of such securities over the last two years.
For the year, the deficit in investment income was reduced by $2.1 billion as income from investment abroad outpaced higher payments on foreign investment in Canada. This was due mainly to lower payments of interest on Canadian bonds. It was the fourth consecutive annual reduction in the deficit on investment income.
Services remain stable
In the fourth quarter, the deficit on services remained unchanged; however, for the year 2005, there was an increase of $0.7 billion.
In 2005, the travel deficit increased $1.3 billion as fewer Americans visited Canada, especially on same-day trips. At the same time, Canadians spent more than in the previous year visiting both U.S. and non-U.S. destinations.
The deficit in transportation services increased by $1.0 billion in 2005 as the deficit on passenger fares widened in line with the travel activity.
Higher receipts, notably for financial services, combined with lower payments for management and communication services accounted for most of the $1.4 billion reduction in the commercial services deficit in 2005.
Financial account
Foreign securities continue to lure Canadian investors
During the fourth quarter, Canadians once again invested in foreign securities although less than in the previous quarter. The $9.7 billion in the fourth quarter brought the investment for 2005 to $42.2 billion, exceeding the total invested over the previous two years. Foreign content limits for tax-deferred Canadian investment vehicles were eliminated during 2005 contributing to the activity.
Most of the investment again flowed into foreign bonds as Canadians acquired $5.7 billion worth. Two-thirds of the investment went to US corporate bonds and US treasuries with the remainder to overseas bonds. Part of this investment went to Canadian dollar denominated foreign bonds sold directly in the Canadian market over the course of the year.
Investment in foreign securites remains high1

Canadians purchased a further $3.4 billion of foreign equities over the quarter, with the investment going to US shares as it has for the entire year. The $14 billion of foreign stock purchased in 2005 was a large increase over the two previous years; however, it is still well below the peak levels reached in 2000-2001. In addition, Canadian investors purchased some $592 million of foreign money market paper, bringing the annual investment to $2.5 billion. In the fourth quarter, Canadians bought mainly overseas paper.
Moderate investment abroad by Canada's direct investors
Canadian direct investment in foreign economies returned to a more moderate pace in the quarter. At $8.3 billion, it was driven by injections of working capital into existing foreign affiliates as acquisitions were minimal. Acquisitions by Canada's direct investors for the year as a whole slowed from the surge in 2004. This resulted in the annual total direct investment abroad for 2005 slowing to $37.8 billion from the $62 billion in 2004. From an industry perspective in the fourth quarter, investment was concentrated in the energy and metallic mineral and finance and insurance sectors. Geographically direct investment was led by increases to Asian economies.
Direct investment abroad again moderate1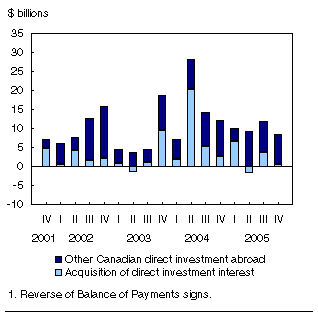 Foreign direct investment in Canada surges for a second straight quarter
Foreign direct investment in Canada advanced for a second consecutive quarter to its highest level in the last 15 quarters. The $15.5 billion capital injection into the Canadian economy during the fourth quarter was largely fuelled by acquisitions. Acquisitions have rebounded in 2005 after two years when Canadians repatriated some firms from their foreign direct investors. At $39.9 billion annually, foreign investment in Canada reached a four-year high. In 2005, the foreign investment flowing into Canada was led by US investors; over half was invested in companies classified to the energy and metallic minerals sector.
Foreign direct investment on the rise

Foreign investment in Canadian securities goes to equities and short-term paper
Foreign investors bought $5.2 billion worth of Canadian securities. The investment was in equities and short-term paper as non-residents divested some of their holdings of Canadian bonds. The $15.5 billion foreign investment in securities in 2005 was down dramatically from the exceptional $55.5 billion investment in 2004.
The $3.4 billion foreign investment in Canadian equities during the quarter went to outstanding shares with some offset from other transactions associated with foreign takeovers of Canadian firms. The foreign portfolio shareholders in these firms sold their Canadian shares for cash. US investors were behind most of the investment in the quarter as they were for the year. The $12.7 billion invested during 2005 was just a third of 2004's record total. While both years foreign investment in outstanding shares were very similar, much of the 2004 investment came from transactions related to takeover activity. In 2004, new treasury shares were issued by a Canadian company as part of the largest takeover ever of a foreign company. In 2005 purchases were dominated in large part by investment in shares of Canadian natural resource firms. Prices for raw materials were up nearly 13% over the year while the S&P/TSX Composite Index closed the year at 11,272.3, an increase of almost 22% for 2005.
Foreign investors buy Canadian paper but sell bonds
Foreign investors bought $3.1 billion of Canadian money market paper in the quarter, the highest value in three years. About half went to federal treasury bills with the remainder to corporate paper and paper issued by federal enterprises. Regionally, the investment was led by American investors.
Although small in value, foreign investment in Canadian money market paper in 2005 was a reversal of the disinvestment over the previous two years. Non-residents acquired $446 million worth dominated by federal direct and corporate paper. Over the course of 2005, US short-term interest rates climbed faster than Canadian rates. This caused the differential to swing in favour of investing in US paper by year-end to about half a percentage point.
Non-residents sold $1.2 billion of Canadian bonds in the quarter, their first net divestment of these securities in nine quarters. The reduction in foreign holdings was primarily due to net retirements (retirements less new issues) especially in bonds issued by the corporate sector. New issues sold in foreign markets by this sector have trended down substantially during 2005. On a currency basis, the foreign divestment was in US-dollar denominated Canadian bonds. This was offset by some buying of bonds denominated in other foreign currencies and Canadian-dollar denominated bonds. The selling was by US investors while all other regions were buyers.
For the year as a whole, foreign investment in Canadian bonds totalled $2.4 billion, little more than one tenth of the value recorded in 2004. Again, net retirements played a major role in 2005 as retirements of foreign-held Canadian bonds increased from 2004 while new issues in foreign markets dropped considerably from the previous years.
Despite the low overall investment total, investors from Asia made their largest annual investment in Canadian bonds since the late 1980's. The currency composition of non-resident holdings of Canadian bonds also shifted during the year as investment in Canadian bonds denominated in US dollars fell $6.5 billion, while investment in Canadian dollar bonds rose $3.7 billion and those in other currencies were up $5.1 billion.
Transactions in deposits and loans
The other investment account recorded a net outflow of $6.2 billion, partly offsetting a larger inflow in these accounts in the third quarter. The outflow was mostly related to reduced liabilities, both loans and other liabilities. The Canadian dollar fell marginally against the US dollar over the quarter but was up nearly 3 US cents over 2005. It closed the year at an even 86 US cents, the highest annual close in fourteen years. The dollar was also up against most other major foreign currencies in 2005.
Statistical tables
Information on methods and data quality available in the Integrated Meta Data Base: 1533, 1534, 1535 and 1536.