Agenda 2030 Sustainable Development Goals Report, 2020
Goal 7, Affordable and Clean Energy

View the most recent version.
Archived Content
Information identified as archived is provided for reference, research or recordkeeping purposes. It is not subject to the Government of Canada Web Standards and has not been altered or updated since it was archived. Please "contact us" to request a format other than those available.
Release date: October 20, 2020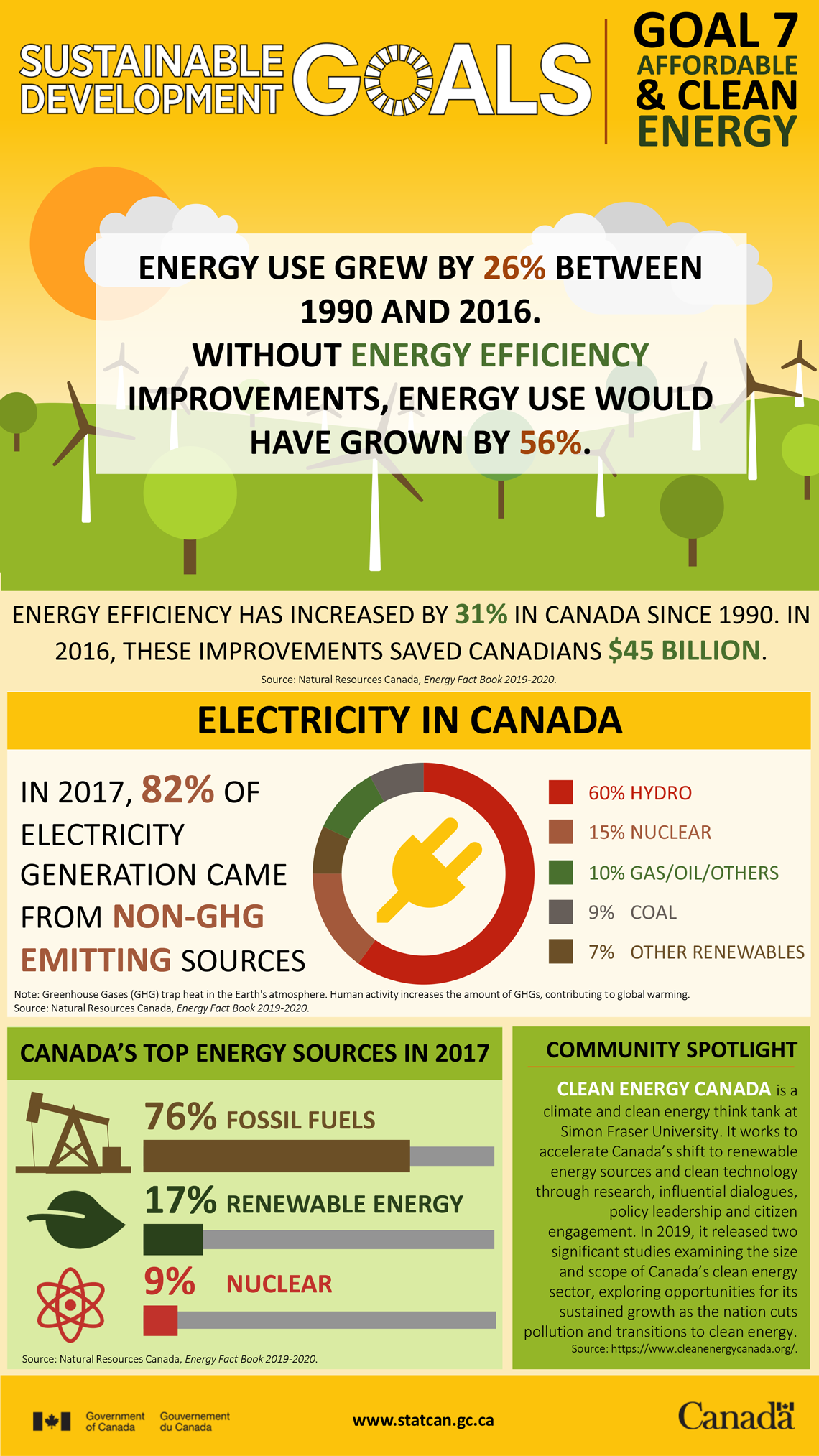 Description: Sustainable Development Goals: Goal 7, Affordable and Clean Energy

Energy use grew by 26% between 1990 and 2016. Without energy efficiency improvements, energy use would have grown by 56%.

Energy efficiency has increased 31% in Canada since 1990. In 2016, these improvements saved Canadians $45 Billion.

Source: Natural Resources Canada, Energy Fact Book 2019-2020.

---

Electricity in Canada

In 2017, 82% of electricity generation came from non-GHG emitting sources



Table 1
Table summary
This table displays the results of Table 1. The information is grouped by Type of electricity generation (appearing as row headers), Percent (appearing as column headers).

| Type of electricity generation | Percent |
| --- | --- |
| Hydro | 60 |
| Nuclear | 15 |
| Gas/oil/others | 10 |
| Coal | 9 |
| Other renewables | 7 |

Note: Greenhouse Gases (GHG) trap heat in the Earth's atmosphere. Human activity increases the amount of GHGs, contributing to global warming.

Source: Natural Resources Canada, Energy Fact Book 2019-2020.

---

Canada's top energy sources in 2017

76% fossil fuels
17% renewable energy
9% nuclear

Source: Natural Resources Canada, Energy Fact Book 2019-2020.

Clean Energy Canada is a climate and clean energy think tank at Simon Fraser University. It works to accelerate Canada's shift to renewable energy sources and clean technology through research, influential dialogues, policy leadership and citizen engagement. In 2019, it released two significant studies examining the size and scope of Canada's clean energy sector, exploring opportunities for its sustained growth as the nation cuts pollution and transitions to clean energy.

Source: Clean Energy Canada

Report a problem on this page

Is something not working? Is there information outdated? Can't find what you're looking for?

Please contact us and let us know how we can help you.
Date modified: