Transportation

View the most recent version.
Archived Content
Information identified as archived is provided for reference, research or recordkeeping purposes. It is not subject to the Government of Canada Web Standards and has not been altered or updated since it was archived. Please "contact us" to request a format other than those available.
[an error occurred while processing this directive]11-402-x[an error occurred while processing this directive] [an error occurred while processing this directive]
Transportation plays a crucial role in the social, economic and political activities of all Canadians. By moving both people and goods in a country as vast as Canada, transportation has a significant impact on where people choose to live, vacation, shop and work. It is also a major consumer of resources such as fuel, materials and land, therefore putting pressure on the environment.
In 2009, as the economy experienced the effects of the global recession, the gross domestic product (GDP) fell at an annual rate of 2.8%, down from an annual average growth of 2.3% in the 2001-to-2008 period.
Changes in the economy have a considerable impact on transportation demand. In 2009, GDP in the transportation sector fell by 4.3% to $55.8 billion, down from 2.3% annual growth in the 2001-to-2008 period. The sector nevertheless remained a strong contributor to Canada's overall GDP, accounting for 4.7% in 2009.
From 2008 to 2009, employment in the transportation sector fell 4.4%, compared with an annual average growth rate of 2.1% from 2003 to 2008.
All sectors saw GDP losses from 2008 to 2009. As in previous years, trucking was the largest contributor to transportation GDP, accounting for more than 28% or $15.9 billion.
Trucking shipments decline
Trucking shipments declined in 2008. For hire trucking companies in Canada with annual revenue of $1.3 million or more transported fewer shipments (-5.6%) and less weight (-1.9%) compared with 2007. Most (85%) of these shipments stayed within Canada. International shipments represented 15% of all shipments and generated one-third of the revenue. Goods originating in the census metropolitan areas of Toronto, Montréal and Edmonton accounted for one-quarter of the total weight shipped.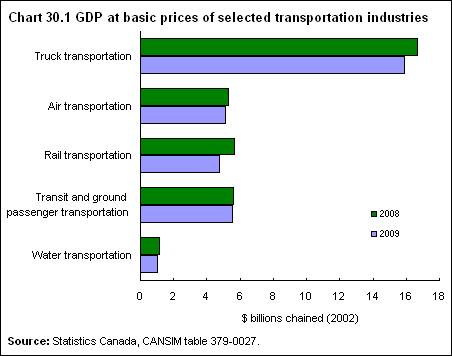 View data source for chart 30.1
Railroads decline and marine transportation holds steady
The volume of cargo carried by Canadian railways dropped from 2008 to 2009, as both commodity loadings in Canada and traffic received from the United States declined. The total freight traffic originating in Canada and received from the United States in 2009 was 259.7 million metric tonnes, down 15.3% from 2008.
Rail freight loaded in Canada fell 12.8% to 237.7 million metric tonnes in 2009 compared with 2008. The Canadian railway industry's core transportation systems, non-intermodal and intermodal, both contributed to the drop in cargo loaded.
Total cargo handled at Canada's ports and marine terminals increased 0.4% in 2007 compared with 2006, primarily because of a 3.8% increase in outbound international shipments. This rise was, however, offset by a 3.5% decline in incoming international shipments, as well as by a 1.0% drop in the total domestic cargo.
In contrast, total international and domestic shipments of crude petroleum—the single largest commodity handled by the Canadian marine transportation system covering 20% of the total tonnage—climbed 16.1% to 98.8 million metric tonnes over the same period.

View data source for chart 30.2
Report a problem on this page

Is something not working? Is there information outdated? Can't find what you're looking for?

Please contact us and let us know how we can help you.
Date modified: