Feature article
---
Terms of Trade, GDP and the Exchange Rate
by F. Roy*
Introduction
The terms of our international trade – the ratio of our export to import prices – have a major effect on Canada's economic performance. They directly affect our nominal trade balance, which reflects not only the volume of trade flows but also their prices. Indirectly, changes in the terms of trade also influence the composition of domestic demand through their impact on prices and profits in different sectors.
This paper looks at the reasons for the recent sharp shift in Canada's terms of trade and its impact on different sectors of the economy. We also look to the recent American experience with a sharply rising dollar as a guide to how different sectors of the economy could gain or lose from these changes. The focus of this article is not on the overall net effect, which is likely to be small,1 but on the distributional effects, which have already been considerable.
Our dollar had a sharp turnaround in 2003. Driven by a 10.8% gain against the US dollar, the effective exchange rate 2 of the Canadian dollar rose 10.5% on average in 2003. Among OECD countries, only Australia, New Zealand and the Euro-zone countries posted slightly faster increases. The increase from December 2002 to December 2003 was more striking, at nearly 20%. Still, the dollar remains well below its 1991 peak.
Terms of Trade and the Dollar
Figure 1 shows the long-run relationship of Canada's terms of trade 3 and our exchange rate with the US. Broadly speaking, the two move together, with the terms of trade often shifting slightly in advance of the dollar. But there are important exceptions, including much of the 1960s (when the exchange rate was fixed) and 1973-74 when commodity prices surged. Most recently, the terms of trade have improved noticeably on two occasions in the last eight years (including California's energy crisis in 2001) without a commensurate rise in the exchange rate until 2003.
Figure 1
Interestingly, the terms of trade have usually changed for Canada because of export prices for commodities, especially energy. This supports the findings in the literature that on balance causality flows from the terms of trade to the exchange rate. But in 2003, the reverse happened: a rise in the dollar caused import prices to drop faster than the associated decline in export prices, raising our terms of trade.
Figure 2 shows that the terms of trade for Canada and the US are virtually the mirror image of each other, reflecting the importance of both the exchange rate and our commodity prices in their determination. Canada's terms of trade fluctuate more. In the US, the sharp rise in its currency before 2003 had a smaller impact on its terms of trade because both export and import prices fell in unison. Moreover, the external sector of the US is small (relative to its GDP) compared with most other trading nations. Conversely, the appreciation of our dollar helped lower import prices for goods across the board, down 12% in the past year. Meanwhile, export prices have dipped in fewer areas than imports, with an overall retreat of 7%.
Figure 2
The appreciation of our dollar has been reflected in large and widespread declines in import prices (Figure 3). Machinery and equipment and consumer goods, which accounted for 42% of imports in 2003, saw import prices fall by 15.2% and 12.6% respectively. These two sectors also posted by far the sharpest rise in the terms of trade, as their export prices did not decline nearly as much: the terms of trade rose 13.6% for consumer goods and 10.1% for investment goods (Figure 4). As a result, despite a sharp increase in the volume of imports, the trade deficit for capital goods varied little in current dollars as prices fell (Table 1). Similarly, the nominal trade deficit for consumer goods was little changed at $29 billion, as consumers bought more imports at lower prices.
Figure 3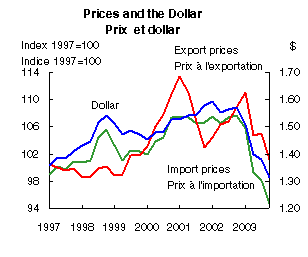 Figure 4
Table 1: Nominal Trade Balance and Terms of Trade by Sector
Total
Agricultural and fish products
Energy
Forestry
Industrial goods
Machinery and equipment
Autos
Consumer goods
Terms of trade*
1997
100.0
100.0
100.0
100.0
100.0
100.0
100.0
100.0
1998
96.5
98.5
99.0
100.0
94.2
97.5
100.8
94.9
1999
98.1
99.6
106.5
100.2
94.0
98.2
100.2
95.9
2000
102.5
100.8
116.1
98.6
96.7
99.2
100.9
96.1
2001
101.5
103.1
123.1
100.4
92.1
98.1
101.8
93.6
2002
99.4
102.3
103.7
95.1
92.5
98.6
102.5
93.9
2003
106.1
101.9
117.8
94.0
98.3
106.0
103.4
102.1
Current dollars
1997
25,652
9,121
16,550
32,719
2,074
-22,405
8,644
-19,039
1998
23,765
7,786
15,179
32,938
-1,125
-20,419
11,673
-22,009
1999
42,011
7,957
19,168
37,340
-2,322
-19,571
21,358
-23,016
2000
67,827
9,118
35,305
39,690
-1,118
-12,509
20,677
-24,890
2001
70,886
10,757
38,004
37,308
-435
-9,548
20,286
-26,624
2002
57,845
9,135
33,015
34,062
1,357
-8,563
15,580
-28,749
2003
60,206
7,800
41,359
31,480
1,470
-8,924
11,584
-29,073
* The data in this table are annual versus the quarterly data in Figure 4.
While import prices have fallen sharply across the board, only two of the seven export categories saw prices tumble in line with the rise in the dollar. These sectors – autos and agriculture products — represent less than one-third of our exports: as well, autos have the highest import content of any export, and the cost of imported auto products fell more (12.2%) than exports (-10.4%), easing the pressure on profit margins in this industry. Agriculture prices were depressed by mad cow disease. Machinery also fell, although not as fast as these two sectors. Exports of energy and industrial materials, which are almost as large as autos and agriculture, saw Canadian dollar prices cushioned by rising prices on world commodity markets, which offset the effect of the exchange rate (the falling US dollar means every US dollar earned in exports buys fewer Canadian dollar). Prices for consumer goods held steady.
The increase in the terms of trade opens the door for GDP to rise as the dollar appreciates. This is because the drop in import prices allows Canadians to buy imports at lower prices, freeing up money to purchase other products, or allowing firms to invest more. Meanwhile, some exporters have suffered from a loss of export earnings, but this trend is not universal, especially for resource products.
Shipments and Profits
This is borne out by the recent data on manufacturing shipments. Because of its large export orientation and competition from imports, this sector is the most exposed to rapid shifts in the terms of trade. Even then, not all manufacturing industries have been adversely affected.
The exchange rate and shipments are closely related for 9 of the 22 manufacturing industries 4, accounting for just over half of all shipments (Figure 5). 'Dollar-sensitive' shipments are those where profits have moved in tandem with the exchange rate over the last 30 years.5 Most of the nine industries are export-oriented, including autos, chemicals and machinery. But some may make the list because of a susceptibility to import competition. Industries less affected by the dollar are in the resource sector (notably petroleum, primary metals and forestry products) where shipments are more dependent on commodity prices than the dollar. As well, 'soft' goods such as tobacco, leather, textiles and clothing are in this group, along with information technology (which largely explains the surge in shipments of these goods in 2000 and subsequent slump).
Figure 5
Shipments of industries responsive to the dollar rose 26% between 1997 and 2002, before edging down last year. Other industries saw only half this gain over this period. Interestingly, those industries whose profits are most affected by the exchange rate include those where direct investment abroad increased the most in the 1990s (notably transportation equipment and machinery). More investment abroad heightens the effect of the exchange rate on profits; for example, when remittances from abroad are converted into Canadian dollars at a lower exchange rate, this boosts profits in Canada. The reverse occurs when the exchange rate is rising – profits are depressed.
Manufacturing led the recovery of corporate profits after the 1990-92 recession in Canada, helped by the falling dollar. But industrial profits in 2003 were already being squeezed by the dollar's rise. Non-manufacturing profits in Canada hit a decade-high as the dollar rose. This is exactly what happened in the US until last year, as manufacturing profits were cut in half as the dollar hit its peak, while non-manufacturing profits doubled (Figures 6a and 6b).
Figure 6a
Figure 6b
This dichotomy was reflected in employment, where the goods-producing sector contributed twice as much to job growth in Canada as in the US in the 1990s. Already in 2003, employment in Canada diverged sharply between steady gains outside manufacturing and a slowdown in manufacturing.
Sectoral spending
The American experience with a sharp rise in their dollar before 2002 was strong growth in sectors that benefit from the lower prices resulting from a strong currency (mostly tradable goods 6 sectors such as consumer goods and business machinery and equipment). Figures 7a and 7b show how prices of these goods closely followed the trend of the US dollar (inverted), falling about 20% between 1995 and 2002. Meanwhile, prices for these goods were little changed in Canada during this period.
Figure 7a
Figure 7b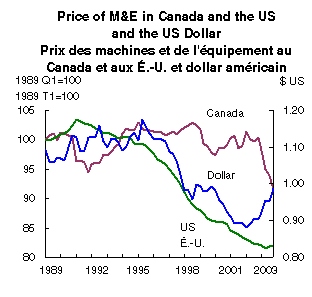 Americans took advantage of these lower prices by substantially increasing the volume of outlays for consumer goods and machinery and equipment, which contributed about half of the growth of aggregate demand between 1989 and 2003. Over the same period in Canada, these 'high-dollar' sectors accounted for only about one-third of growth. The much faster growth of US investment in machinery and equipment contributed to their faster rising productivity.
Conversely, the contribution to growth from the rest of the economy, including sectors that benefit from a lower exchange rate (mostly net exports) as well as non-tradables such as services and construction accounted for a larger share of GDP growth in Canada than in the US. Most of this reflected the higher contribution of net exports. These results are little changed if government services are included. Table 2 shows the contribution of each sector to overall growth from 1989 to 2003. Figures 8a and 8b present the contribution of 'high-dollar' and other sectors to cumulative output growth.
Table 2: Contribution to Real GDP Growth, 1989-2003*
Share of GDP growth
Canada
United States
GDP
100.0
100.0
Sectors benefiting from a strong dollar:
Total
34.8
53.3
Consumer goods
21.8
34.9
Business Machinery and equipment
13.0
18.4
Other sectors
Total
46.5
34.4
Consumer services
33.8
39.3
Business residential and non-residential construction
3.5
3.7
Net exports
9.2
-8.6
Government (Current and capital)
15.9
11.2
* Without inventories.
Figure 8a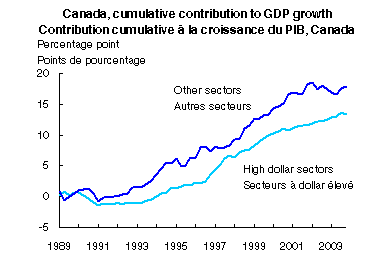 Figure 8b
Helped by a low dollar, net exports played a larger role in Canada than in the US in boosting growth. But this only counter-balanced the larger contribution from domestic demand in the US, which was stimulated in part by lower import prices. Recall that in the US the rising dollar accompanied sharp declines in both export and import prices. Exports are a relatively larger factor in the Canadian economy, but the smaller drop in their prices in 2003 compared with import prices may cause profits and incomes of exporters to have less of an effect on potential disinflation in key areas of domestic demand.
At first glance, it is surprising that even spending on services was stronger in the US than in Canada. However, this is due to larger increases in health care spending, which accounted for nearly a third of nominal personal expenditure growth south of the border between 1988 and 2002. In Canada, outlays for health care contributed only marginally (7%) to overall consumer services growth, largely because it is provided mostly by the public sector.

Tourism in Canada is one sector that usually suffers when the exchange rate rises. But the events of September 11 had already put a brusque end to the upward trend of international travel 7, with tighter security measures also affecting travel to Canada. Thus, despite a higher US dollar in 2001 and into early 2002, the number of Americans traveling abroad fell from 60.9 to 56.4 million, while foreigners visiting the US fell from 50.9 to 41.9 million. The most recent data for Canada show some response of travel flows to the rise of the loonie, notably our travel overseas. As a result, Canada's travel deficit doubled last year to a 10-year high.
Command GDP
One summary measure of the influence of the terms of trade on aggregate purchasing power is the so-called 'command-basis' (or terms of trade adjusted) measure of GDP, a variant regularly published by the US. Command GDP differs from real GDP in that exports are deflated with import prices (instead of export prices). This is done as a proxy of the 'command' over economic resources arising from shifts in the terms of trade. It proxies the quantity of goods and services a nation could buy in the world market, whereas conventional GDP measures what it produces. If the terms of trade shift in Canada's favour, command GDP will rise faster than conventional GDP, because falling import prices increase our purchasing power in the world market. Conversely, when our terms of trade worsen due to import prices rising faster than export prices, this reduces our purchasing power and lowers command GDP (as occurred in 1998 and 2001), because we sell our products more cheaply and pay more for what we buy 8.
Figure 9 shows that the adjustment for command-based GDP makes almost no difference for the US. While the adjustment does closely track shifts in their terms of trade, the external sector is so small relative to the US economy that the overall effect on GDP is minimal. While the command-based GDP has a similar relationship with the terms of trade in Canada, our much larger exposure to foreign trade amplifies the effect on GDP. Since reaching its low late in 2001, the terms of trade have risen 10.6%: as a consequence, we can export 10.6% less to pay for a given quantity of imports than in late 2001. Command GDP was 9.6% higher than two years ago.
Figure 9
Conclusion
Producers have felt the negative fall-out from our rising exchange rate almost immediately: the terms of trade shifted in favor of importers at the expense of exporters, employment fell in factories, and investment income from abroad contracted when converted into Canadian dollars. However, the recent experience of the US suggests that a rising dollar also has positive effects, partly by putting downward pressure on prices and hence interest rates. It deflates the import bill for consumer and investment goods, freeing up income for more spending and stimulating investment in high-tech and other productivity enhancing goods.
---
* Current Analysis (613) 951-3627 or ceo@statcan.ca.
1. The vast majority of economic research shows that improvements in the terms of trade lend a small net stimulus to the economy. For example, a review by the NBER concluded that "positive terms of trade shocks will always (ceteris paribus) raise GDP, and the empirical issue is only how much," p. 21 in "Terms of Trade Shocks and Economic Performance 1870-1940: Prebisch and Singer Revisited" by Y. Hadass and J. Williamson, NBER Working Paper 8188, Cambridge MA, 2001.
2. This is the Canadian dollar measured against other OECD currencies weighted by their share in trade.
3. All data on trade and prices in this study come from the National Accounts, which include Balance of Payments adjustments.
4. Transportation equipment was split into autos and other, partly to facilitate the comparison with profits.
5. Three databases on corporate before-tax profits were linked over time: the NAICS-based classification from 1998 to 2001; the 1980 SIC classification from 1988 to 1997; and the 1960 SIC classification from 1972 to 1987. Dollar-sensitive industries are defined as having a correlation coefficient of over 0.5 between profits and the exchange rate over the whole period.
6. For more on the distinction between tradable and non-tradable goods, see J. Greenwood, "Non-Traded Goods, the Trade Balance and the Balance of Payments" in The Canadian Journal of Economics, Vol. 17 No. 4, November 1984.
7. From 1992 to 2000, nearly 20 million more Americans made trips abroad every year, an increase of nearly 50%, while visitors to the US rose by only 5 million or about 10%.
8. See also p. 10-11 P. Krugman and R. Lawrence, "Trade, Jobs and Wages". NBER Working Paper No. 4478, Cambridge MA, 1993.