Chart 12
Percentage distribution of caregivers by task, women and men aged 25 to 54, Canada, 2012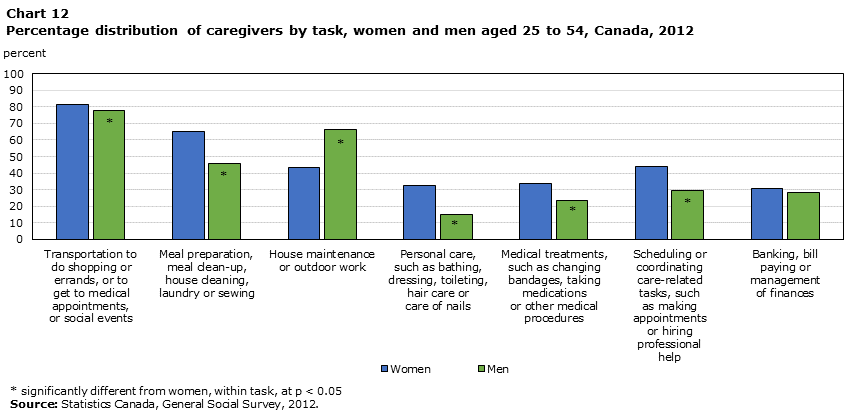 Data table for Chart 12

Data table for chart 12
Table summary
This table displays the results of Data table for chart 12 Women and Men, calculated using percent units of measure (appearing as column headers).
Women
Men
percent
Transportation to do shopping or errands, or to get to medical appointments, or social events
81.6
77.8

Note

*
Meal preparation, meal clean-up, house cleaning, laundry or sewing
64.9
45.9

Note

*
House maintenance or outdoor work
43.4
66.6

Note

*
Personal care, such as bathing, dressing, toileting, hair care or care of nails
32.8
14.8

Note

*
Medical treatments, such as changing bandages, taking medications or other medical procedures
33.6
23.5

Note

*
Scheduling or coordinating care-related tasks, such as making appointments or hiring professional help
44.1
29.3

Note

*
Banking, bill paying or management of finances
30.7
28.6

Note

*

significantly different from women, within task, at p < 0.05

Source: Statistics Canada, General Social Survey, 2012.
Report a problem on this page

Is something not working? Is there information outdated? Can't find what you're looking for?

Please contact us and let us know how we can help you.
Date modified: