Chart 1
Average expenditure per household incurred on tuition at pre-elementary and elementary-secondary, and postsecondary levels per household incurring such expenditure, Canada and jurisdictions, 2007
View the most recent version.
Archived information
Archived information is provided for reference, research or recordkeeping purposes. It is not subject to the Government of Canada Web Standards and has not been altered or updated since it was archived. Please "contact-us" to request a format other than those available.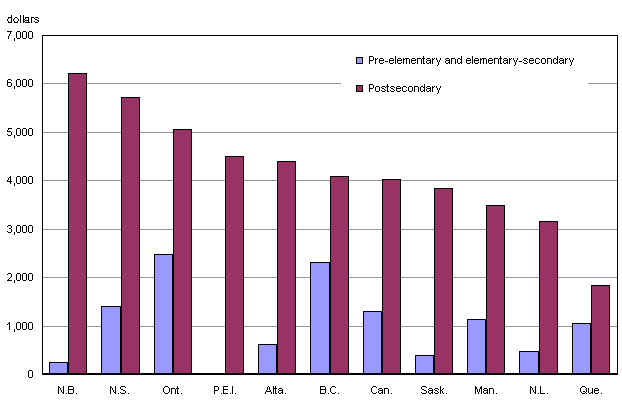 Notes: Jurisdictions are ordered according to household expenditure on postsecondary tuition. Data for Prince Edward Island at the pre-elementary and elementary-secondary level, and for the Yukon, Northwest Territories, and Nunavut are too unreliable to be published.
Source: Statistics Canada, Education Indicators in Canada: Report of the Pan-Canadian Education Indicators Program 2007, Table B.2.7.