The Canadian Labour Market at a Glance
Earnings of employees and the self-employed

View the most recent version.
Archived Content
Information identified as archived is provided for reference, research or recordkeeping purposes. It is not subject to the Government of Canada Web Standards and has not been altered or updated since it was archived. Please "contact us" to request a format other than those available.
Almost half of self-employed also earned wages or salaries
In 2005, Canadian employees who only earned wages or salaries earned, on average, $36,703 annually. Two out of 5 (40%) of these employees earned less than $20,000, while just under 1 in 20 (4%) had incomes over $100,000.

On average, Canadians who only had income from self-employment in 2005 earned $22,866. Almost half (46%) of the self-employed, however, also had earnings or wages from either another employer or from paying themselves an additional salary or wage.

The average self-employment income in 2005 for Canadians who reported any such income, regardless of whether they were completely self-employed or they also had a wage, was $16,767.

In 2005, 79% of the self-employed had incomes less than $20,000. However, 3% of the self-employed had incomes over $100,000.

Self-employment income for men was higher than that for women. In 2005, men with self-employment income earned an average of $20,080 from self-employment earnings, compared with $12,000 for women with self-employment income.

The two main sources of income for the self-employed were business (46%) or professional (44%) income. Other sources of income included commissions (7%), farming (3%) and fishing (1%).
Chart J.9
Average net earnings of employees and the self-employed, 2000 and 2005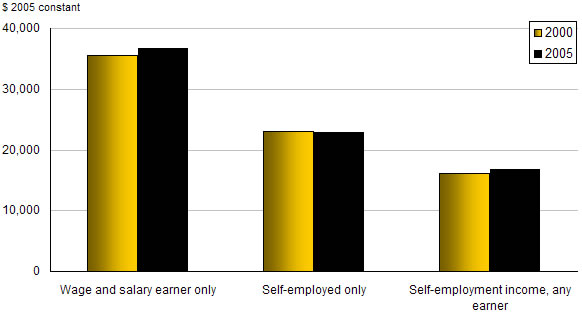 Source: Statistics Canada, Small Area and Administrative Data Division, special request.
Report a problem on this page

Is something not working? Is there information outdated? Can't find what you're looking for?

Please contact us and let us know how we can help you.
Date modified: