The geographer's tools
View the most recent version.
Archived Content
Information identified as archived is provided for reference, research or recordkeeping purposes. It is not subject to the Government of Canada Web Standards and has not been altered or updated since it was archived. Please contact us to request a format other than those available.
A map is worth a thousand words when it comes to portraying statistical information. So Statistics Canada produces a host of reference maps and thematic maps, as well as an interactive mapping tool called GeoSearch.
Reference maps assist users in relating census data to actual locations on the ground. The maps show boundaries, names and codes of standard geographic areas, as well as major visible features such as roads, railroads, coastlines, rivers and lakes. Statistics Canada's website provides access to dozens of reference maps.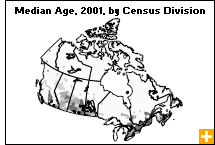 Thematic maps focus on the spatial distribution of one or more data themes for a standard geographic area-for example, the distribution of senior citizens in a census metropolitan area, the predominant farm types in a rural fringe area or the population changes by province and territory. Census information provides enough data to produce thematic maps across a whole range of subjects.
GeoSearch is an Internet tool that finds any place in Canada, shows it on a map and gives the latest census data for that place. It is an example of a simple geographic information system. GeoSearch retrieves basic population and dwelling counts and allows a user to specifically search by place name, street name, street intersection, or to browse a map of Canada and zoom in on any area. It also shows the geographic unit that has been selected and the surrounding geographic features, lakes, rivers, highways and street names.
These maps and the GeoSearch mapping tool are based on census data and help to make geographic patterns in the data more easily understood. All are available at no cost on the Statistics Canada website.