View the most recent version.
Archived Content
Information identified as archived is provided for reference, research or recordkeeping purposes. It is not subject to the Government of Canada Web Standards and has not been altered or updated since it was archived. Please "contact us" to request a format other than those available.
[an error occurred while processing this directive]
Police-reported crime in Canada continues to decline. Both the volume and severity of police-reported crime fell in 2009, continuing the downward trend seen over the past decade.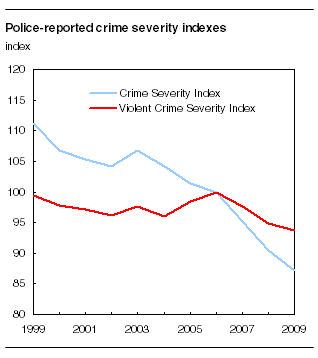 Nearly 2.2 million crimes were reported to police in 2009, about 43,000 fewer than in 2008. Overall, three property crimes accounted for the majority of this drop: 17,000 fewer motor vehicle thefts, 10,000 fewer mischief offences and 5,000 fewer break-ins.
The crime rate, a measure of the volume of crime reported to police, fell 3% in 2009 and was 17% lower than a decade ago.
The Crime Severity Index (CSI), a measure of the seriousness of police-reported crime, declined 4% in 2009 and stood 22% lower than in 1999.
Violent crimes, which range in seriousness from harassing phone calls to homicide, accounted for about 1 in 5 crimes in 2009. Police-reported violent crime in Canada is also declining, but to a lesser extent than overall crime.
Police identified about 165,000 youth aged 12 to 17 accused of a criminal offence in 2009. Both the number of crimes and the seriousness of crimes committed by youth have generally been declining since 2001, including a slight drop in 2009.
Note to readers
This release is based on a Juristat article that presents information on trends in the volume and severity of overall, violent and non-violent police-reported crime at the national, provincial/territorial, census metropolitan area and municipal levels.
The police-reported crime rate and the Crime Severity Index (CSI) are complementary measures of crime. The crime rate measures the volume of crime reported to the police, while the Crime Severity Index measures the seriousness of crime reported to the police.
In the calculation of the police-reported CSI, each offence is assigned a weight, derived from sentences handed down by criminal courts. The more serious the average sentence, the higher the weight for that offence. As a result, more serious offences have a greater impact on changes in the Index. This year, for the first time, a youth Crime Severity Index has been developed.
Data are drawn from the Uniform Crime Reporting Survey, a census survey of all crime known to, and substantiated by, police services. These crime statistics conform to a nationally-approved set of common crime categories and definitions and have been systematically reported by police services and submitted to Statistics Canada each year since 1962.
As a complementary measure of crime, Statistics Canada also releases victimization data from the General Social Survey (GSS) every five years. Data from the 2009 GSS are scheduled for release in the Fall of 2010.
However, youth violent crime is higher now than a decade earlier. Both the volume and severity of youth violent crime were about 10% higher in 2009 than in 1999.
Crime severity highest in Northern and Western Canada
The drop in police-reported crime severity in 2009 was consistent across most of Canada with the only increases reported in Manitoba and Nunavut.
Police-reported crime was most serious in the territories and the western provinces, which has been the case for the past decade. CSI values in Nunavut and the Northwest Territories were twice as high as any of the provinces.
Saskatchewan reported the highest CSI among the provinces, followed by Manitoba, British Columbia and Alberta.
Among census metropolitan areas (CMAs), police-reported crime severity was highest in the western centres of Regina, Saskatoon and Winnipeg. Calgary was the only western CMA below the national average.
The Toronto CMA reported a 4% decline in crime severity in 2009. Its Crime Severity Index was third lowest, behind Guelph and Québec.
Slight decline in violent crime
Police reported about 443,000 violent crimes in 2009, about 4 in 10 of which were minor assaults. Rates for many violent crimes fell in 2009, including serious assault, sexual assault and robbery.
However, some violent crimes did increase. There were 806 attempted murders in 2009, 85 more than in 2008. Increases were also reported in the rate of extortion, firearms offences and criminal harassment.
There were 610 homicides in 2009, about the same as the previous year. The homicide rate has been relatively stable for the past decade and well below the peak during the mid-1970s.
Manitoba reported the highest homicide rate among the provinces for the third consecutive year. Among census metropolitan areas, Abbotsford–Mission, with nine homicides, reported the highest homicide rate for the second year in a row.
Break-ins and vehicle thefts continue to decline
Break-ins have been steadily declining since peaking in the early 1990s, including a 4% drop in 2009. Police reported just over 205,000 break-ins in 2009, of which 6 in 10 were residential.
Motor vehicle thefts dropped substantially for the second year in a row, down 15%. There were about 108,000 motor vehicle thefts in 2009, an average of 300 stolen vehicles each day.
Impaired driving increases for third year in a row
Following 25 years of general decline, impaired driving offences increased for the third consecutive year, up 3% in 2009.
In July 2008, new legislation came into effect enabling police to conduct mandatory roadside testing and assessment of suspected drug-impaired drivers. Of the 89,000 incidents of impaired driving in 2009, just over 1,400 were reported by police to have been drug-impaired driving.
In addition, about 98,000 drug offences came to the attention of police in 2009, half of which were for possession of cannabis. The rate of drug offences declined 6%, primarily due to a drop in cocaine offences. Cannabis offences remained relatively stable.
Available on CANSIM: tables 252-0051 and 252-0052.
Definitions, data sources and methods: survey number 3302.
The Juristat article "Police-reported crime statistics in Canada, 2009," Vol. 30, no. 2 (85-002-X, free), is now available. From the Key resource module of our website under Publications, choose All subjects, then Crime and Justice, and Juristat. Crime data are also available for about 200 police services in communities of over 10,000 population (Crime Severity Index table).
For more information, or to enquire about the concepts, methods or data quality of this release, contact Client Services (toll-free 1-800-387-2231; 613-951-9023), Canadian Centre for Justice Statistics.
Table 1
Police-reported crime for selected offences, Canada
2009
2008 to 2009
number
rate
% change in rate
Type of offence
Total crime (excluding traffic) "Crime rate"
2,161,313
6,406
-3
Violent crime
443,284
1,314
-1
Homicide
610
2
-1
Other violations causing death
95
0
1
Attempted murder
806
2
10
Sexual assault: Level 3: Aggravated
122
0
-13
Sexual assault: Level 2: Weapon or bodily harm
349
1
-2
Sexual assault: Level 1
20,460
61
-4
Sexual violations against children¹
2,620
8
...
Assault: Level 3: Aggravated
3,619
11
-1
Assault: Level 2: Weapon or bodily harm
53,481
159
-4
Assault: Level 1
181,570
538
-1
Assault police officer
9,822
29
-1
Other assaults
3,496
10
-11
Firearms: Use of, discharge, pointing
1,716
5
15
Robbery
32,239
96
-2
Forcible confinement or kidnapping
4,747
14
-1
Abduction
429
1
-8
Extortion
1,701
5
20
Criminal harassment
20,007
59
7
Uttering threats
78,407
232
-2
Threatening or harassing phone calls
23,203
69
-6
Other violent Criminal Code violations
3,785
11
-2
Property crime
1,376,895
4,081
-4
Break and enter
205,710
610
-4
Possess stolen property
30,495
90
-4
Motor vehicle theft
108,172
321
-15
Theft over $5,000 (non-motor vehicle)
15,573
46
-8
Theft $5,000 and under (non-motor vehicle)
550,183
1,631
-2
Fraud
90,623
269
-2
Mischief
362,767
1,075
-4
Arson
13,372
40
-1
Other Criminal Code offences
341,134
1,011
-2
Counterfeiting
798
2
-23
Weapons violations
14,911
44
-3
Child pornography² (correction)
..
..
..
Prostitution
3,534
10
-9
Disturb the peace
118,815
352
-2
Administration of justice violations
169,955
504
-2
Other violations
31,527
93
-5
Criminal Code traffic violations
146,553
434
0
Impaired driving
88,630
263
3
Other Criminal Code traffic violations
57,923
172
-5
Drug offences
97,666
289
-6
Possession: Cannabis
48,981
145
-4
Possession: Cocaine
7,543
22
-29
Possession: Other drugs
8,365
25
-9
Trafficking, production or distribution: Cannabis
16,335
48
7
Trafficking, production or distribution: Cocaine
9,923
29
-13
Trafficking, production or distribution: Other drugs
6,519
19
8
Other federal statute violations
31,767
94
-5
Youth Criminal Justice Act
11,140
33
1
Other federal statutes
20,627
61
-8
Total: All violations
2,437,299
7,224
-3
not available for a specific reference period
Sexual offences against children is a relatively new crime category with only partial data available prior to 2009. As a result, numbers and rates should not be directly compared to data from previous years.
Due to incorrect reporting by a police service of incidents of child pornography from 2008 to 2011, the data originally contained in this report have been suppressed and revised data were made available on July 25, 2013 with the release of 2012 crime statistics.
Note(s):
Rates are calculated on the basis of 100,000 population.
Table 2
Police-reported crime severity indexes, by province and territory
2009
2008 to 2009
2009
2008 to 2009
Total Crime Severity Index
Violent Crime Severity Index
index
% change
index
% change
Canada
87.2
-4
93.7
-1
Newfoundland and Labrador
72.1
0
60.9
-9
Prince Edward Island
65.5
-4
44.0
0
Nova Scotia
83.9
0
89.6
1
New Brunswick
70.7
-1
72.0
6
Quebec
82.0
-1
81.0
-2
Ontario
68.9
-3
81.5
0
Manitoba
131.1
2
175.4
10
Saskatchewan
149.4
-2
155.2
1
Alberta
104.7
-7
105.0
-6
British Columbia
110.3
-9
109.8
-5
Yukon
179.9
-1
198.8
2
Northwest Territories
323.3
-5
326.4
-4
Nunavut
336.9
2
485.5
1
Table 3
Police-reported crime severity indexes, by census metropolitan area1
2009
2008 to 2009
2009
2008 to 2009
Total Crime Severity Index
Violent Crime Severity Index
index
% change
index
% change
Canada
87.2
-4
93.7
-1
Regina
143.7
-12
155.6
-9
Saskatoon
132.1
-5
154.7
-6
Winnipeg
127.2
2
187.0
15
Kelowna
121.2
-4
104.3
-5
Edmonton
115.1
-7
118.7
-10
Abbotsford–Mission
111.4
-22
118.8
-4
Thunder Bay
110.3
3
136.1
17
Vancouver
109.6
-8
117.8
-6
Brantford
106.0
1
91.5
4
Halifax
97.2
1
120.0
3
Saint John
96.4
-6
100.3
-8
Victoria
92.2
-10
81.0
0
St. John's
90.6
4
69.3
-6
Montréal
89.6
-2
102.7
-2
London
87.5
4
69.9
8
Greater Sudbury
80.9
10
98.1
30
Trois-Rivières
80.1
3
56.0
-5
Calgary
78.4
-7
84.8
-5
Saguenay
76.7
12
72.8
28
St. Catharines–Niagara
75.9
-5
63.5
-7
Moncton
75.8
4
79.4
20
Gatineau2
74.2
-2
74.5
-4
Kitchener
73.7
7
65.1
7
Hamilton
73.5
-5
84.3
-4
Windsor
71.1
-5
74.6
-3
Sherbrooke
70.7
-8
54.2
-6
Ottawa3
67.0
-2
78.1
7
Kingston
65.6
-4
71.9
19
Peterborough
65.1
-2
59.5
-15
Barrie
64.3
1
53.9
2
Toronto
61.9
-4
94.5
-2
Québec
61.0
-4
49.2
-10
Guelph
59.2
3
50.9
21