View the most recent version.
Archived Content
Information identified as archived is provided for reference, research or recordkeeping purposes. It is not subject to the Government of Canada Web Standards and has not been altered or updated since it was archived. Please "contact us" to request a format other than those available.
Related subjects

[an error occurred while processing this directive]
Contractors selling prices decreased 0.6% in April, compared with a 0.5% decline in March. This resulted in a New Housing Price Index decreasing to 153.7 (1997=100).
The New Housing Price Index has declined 3.2% since reaching a record high of 158.7 in September 2008.
Between March and April, prices declined the most in Vancouver (-1.2%) followed by Edmonton (-0.9%) and Calgary (-0.8%). In Vancouver, most builders are still reducing prices to encourage sales.
In Alberta, although some builders reported increased material costs as a result of new fire code regulations, these increases were negated by builders lowering prices or offering free upgrades in an increasingly competitive market.
Prices declined in Hamilton and Kitchener (-0.7%) and in Toronto and Oshawa (-0.6%) and Victoria (-0.6%).
Between March and April, most new housing contractors' selling prices declined or remained unchanged for the cities surveyed. The exceptions were in St. Catharines–Niagara (+0.6%), St. John's (+0.3%) and Saint John, Fredericton and Moncton (+0.2%). In St. Catharines–Niagara, contractors' reported that selling prices have returned to their regular list price levels after a few months of lower transaction prices. In St John's, builders' prices have been increasing because of high demand for housing, which has created a shortage of lots.
The New Housing Price Index decreased year-over-year by 3.0% in April, due primarily to declines in Western Canada.
On the Prairies, 12-month declines were recorded in Edmonton (-12.5%), Saskatoon (-11.9%) and Calgary (-8.8%).
On the West Coast, Vancouver (-9.0%) and Victoria (-7.0%) each also posted year-over-year declines.
Among surveyed cities, the largest increase between April 2008 and April 2009 was registered in St. John's (+17.0%). The year-over-year increases in this city have been slowing for the past five months, following a peak (+25.6%) in November 2008. Major industrial projects are the main contributors to the strong local economy and are attracting an important flow of migrant workers. This rapid population growth in St. John's increased the demand for housing, which in turn pushed up prices of new homes.
In Québec, the 12-month growth rate was 7.0%, while in Montréal, prices increased 3.6%.
Compared with April 2008, contractors' selling prices were 5.3% higher in Regina. Saint John, Fredericton and Moncton (+4.1%) and Winnipeg (+4.0%) also posted increases.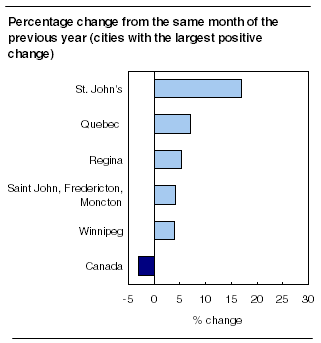 Available on CANSIM: table 327-0005.
Definitions, data sources and methods: survey number 2310.
The first quarter 2009 issue of Capital Expenditure Price Statistics (62-007-X, free) will be available in July.
For more information, or to enquire about the concepts, methods or data quality of this release, contact Client Services (toll-free 1-866-230-2248; 613-951-9606; fax: 613-951-3117; prices-prix@statcan.gc.ca), Producer Prices Division.
Table 1
New housing price indexes
April 2009
April 2008 to April 2009
March to April 2009
(1997=100)
% change
Canada total
153.7
-3.0
-0.6
House only
161.0
-4.2
-0.8
Land only
138.6
-0.6
-0.1
St. John's
180.3
17.0
0.3
Charlottetown
120.5
0.9
0.0
Halifax
150.5
1.6
0.0
Saint John, Fredericton and Moncton
120.5
4.1
0.2
Québec
164.8
7.0
0.0
Montréal
164.9
3.6
0.0
Ottawa–Gatineau
169.6
1.9
0.0
Toronto and Oshawa
145.0
-0.5
-0.6
Hamilton
150.8
-1.4
-0.7
St. Catharines–Niagara
155.5
-1.0
0.6
London
144.4
1.9
0.0
Kitchener
142.2
0.0
-0.7
Windsor
103.7
-0.1
0.0
Greater Sudbury and Thunder Bay
112.7
1.7
0.0
Winnipeg
181.4
4.0
0.0
Regina
250.9
5.3
0.0
Saskatoon
212.9
-11.9
-0.4
Calgary
229.0
-8.8
-0.8
Edmonton
211.2
-12.5
-0.9
Vancouver
113.5
-9.0
-1.2
Victoria
110.7
-7.0
-0.6